Can state policy truly help students learn to read?
The answer is yes – but it takes a lot of work from a lot of people to get there. This is the message I got from Dr. Kymyona Burk, Senior Policy Fellow at ExcelinEd and former state literacy director for Mississippi, when I recently sat down to talk to her about her efforts to launch the new Early Literacy Matters platform. This resource provides a 50-state landscape of early literacy policy and a comprehensive model policy with 17 essential principles for states to consider. Given Mississippi's widely touted success in improving student literacy skills, I can think of no one better to provide advice to other leaders looking for similar results. In fact, Dr. Burk told me that a major impetus for creating this resource was to provide more publicly accessible help in response to the nationwide interest in Mississippi's remarkable results. 
Here is her top advice for state literacy policy that works.
What are the biggest challenges when it comes to a state influencing literacy instruction?
Dr. Burk: Many challenges are grounded in communication. First, you need to communicate about state policy from all sides. When we have state legislators who are champions of good policy, there must be a conversation with the state department of education – because that's who is called to implement the policy. Legislation can require all sorts of things, but the department may not have the structure or staff to move it forward. That type of planning must be an explicit part of the conversation from the beginning. And then the department leaders need to communicate to all the other stakeholders – from the district superintendents who will oversee implementation, to the teachers on the ground actually changing instruction, to the students and families who need to understand what these changes mean and why they matter. 
Another communications challenge centers around the concept of local control. We hear a lot of policymakers say there's really nothing they can do about curriculum adoption in their local control state. But the truth is even in states like Mississippi, which has a long history of local control, the state agency can and should lead efforts to provide extensive guidance and resources to support that local work.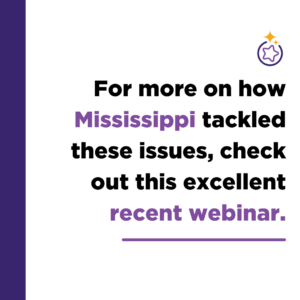 Another big challenge is the misperception that the enacting of a policy is the finish line. For policies to work, leaders have to work those policies. A law can have the perfect language and intention, but without time and care taken to lead on implementation, and meaningfully engaging all the stakeholders, progress won't be made.

Which stakeholders should state leaders better engage to accelerate early literacy improvements?
Dr. Burk: Given the explosion of tutoring as a pandemic recovery strategy, community organizations and providers are now a critical group to engage. Tutoring is not just helping kids with homework anymore. There are other organizations like Boys & Girls Clubs, where large numbers of children go before and after school, and we need to support those providers with resources and training. 
Other key groups are our state boards of education, who approve state regulations, and local district boards, who approve instructional materials. The National Association of State Boards of Education (NASBE) has recently created a literacy committee to help educate board members about the science of reading. This is all about equipping leaders to make the best decisions for their communities. 
What is one state early literacy policy that you'd like to see more states enacting?
Dr. Burk: I'd like to see states banning curriculum that includes three-cueing. Many states require districts to adopt curriculum based on the science of reading, but the language rarely stipulates what the curriculum must not include. That provides a loophole for some providers to say that they "do phonics," but their resources may also include three-cueing. Arkansas first banned this strategy in 2021, and Louisiana banned it last year. We are currently working with several states that are looking to ban it now and our resource has a model policy for leaders to consider. 
What advice would you give to advocates trying to improve policies in their states?
Dr. Burk: I would say three things: One, start with data. Not just national data, but data from your state that shows the need for improvements within and across grade levels. Then, find a champion – a legislator or other state leader who is willing to listen and act. Finally, spread the word. Use all avenues available – phone calls, emails, social media – to spread awareness and build a coalition for your cause. 
My thanks to Dr. Burk for this poignant advice. I highly recommend a thorough look at Early Literacy Matters and ExcelinEd's 50-state analysis, including background on each state's early literacy policy journey.